Lichfield TTC was pleased to host our guests from Ste Foy and Limburg in a three way competition for the first time.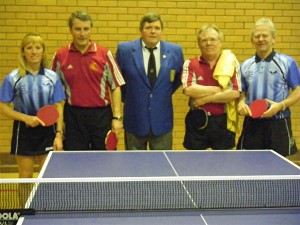 A couple of the teams before play commenced - Lichfield A and Limburg A (left) and Limburg C and
Ste Foy C with Lichfield E&F (right)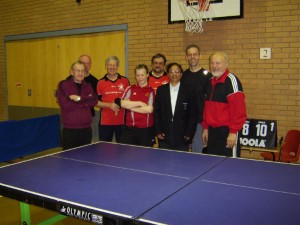 3 hours of non-stop play pitted six Lichfield teams against three each from Ste Foy and Limburg in two-a-side leagues of four teams.
Watched with interest by dignitories from all three councils, and our life president geoff Williamson (centre pic, third right)
After the play, we were pleased to have Lichfield Mayor Mark Warfield to present the awards and friendship gifts, MC'd by Anand Kaila.
Group A winners Di St Ledger and Keith Fellows (left) received their awards watched by the Ste Foy and Limburg teams.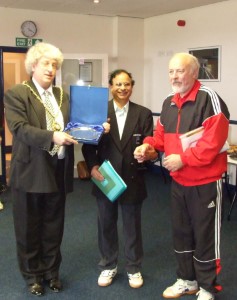 Stefan Grussinger (Limburg - left) and Rene Lafoy (Ste Foy - right) accepted gifts of engraved silver salvers from Lichfield TTC
And the Ste Foy and Limburg teams presented Lichfield with souvenirs of their own clubs.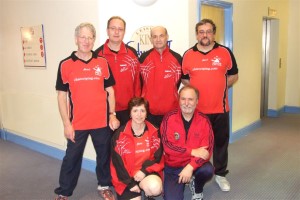 The Ste Foy team was one short, so Dave Knight was lent to them to join Noel Vicard, Rene Lafoy, Roger Bernon, and Jacky and Veronique Milhe- Poutingon.
Limburg were represented by Stefan Grussinger, Georg Reitz, Hans-Gunter Orlowski, Markus Normann, and Erich and Sophie Gartner.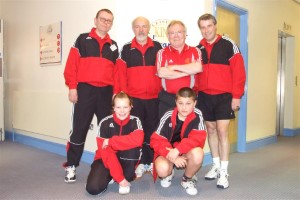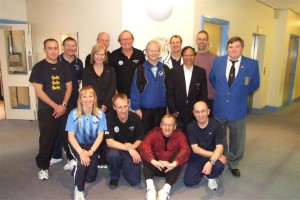 The Lichfield contingent were (standing) guest Chris Newton, Paul Hancox, Geoff Williamson,Dawn Sagoo, Phil Edwards, Keith Fellows, Cyril Merriman, Anand Kaila, Gerbo Huisman, and Rob Watts, (kneeling) Di St Ledger, Jack Gillespie, John Henson and Roger Willetts.
Plus Dave Knight photo-bombing them to spoil it all.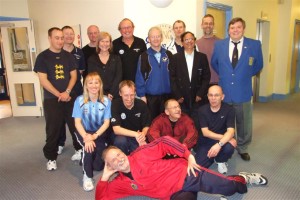 An excellent weekend was had by all, with a terrific tournament played in a spirit of competitive friendship enjoyed by everyone.