Club News
Roger Willetts
As many will be aware, long time club coach Roger has been receiving treatment for leukaemia for several months
and shielding as a result.
We now understand that Roger has been admitted to hospital for more intensive treatment.
I am sure I speak on the whole club's behalf when I wish him well, but if anyone wishes to contact him, his number
is on the "Coaching" page. Please be aware that he may not be able to answer all the time.
Following the club AGM on 26th July, the position of Chairman is vacant.
We re-opened on 19th July
All eight tables are now available and there is no need to pre-book, and no restrictions on who you play.
And no masks!!!
Please note that we are now able to accept new members. Occasional visitors will also be welcome.
Go to the Membership page


Tournament Wins
The Club membership congratulates Angus Rogers and Christian Kalavanas, who won the 2019 Tamworth Juniors double title,
beating Bethany Wootton and Jake Bryant-Hardy of TYC Talentz in the final.
Also Angus took the Junior singles title by beating Bethany in the final.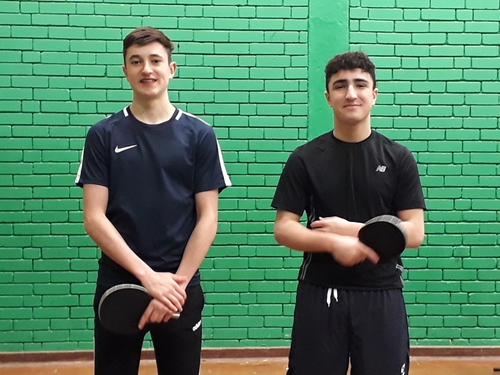 Angus (left) and Christian (right). Junior Doubles Champions.
************************************************************************
Dave Russell Snr
Long term club member Dave Russell Snr sadly passed away on November 20th after a long fight with cancer.
Dave was a well liked member who was always jovial and smiling. He will be missed by all who knew him.
Dave leaves a widow (Mary) and many longer term members will also know his son, also Dave.
The club extends its condolences and sympathy to all of Dave's family and friends.
*******************************************************************
Congratulations to club coaches Roger Willetts and Di St Ledger, who came away from the October Midland Masters 2019 VETTS Tournament with a Gold and Silver each.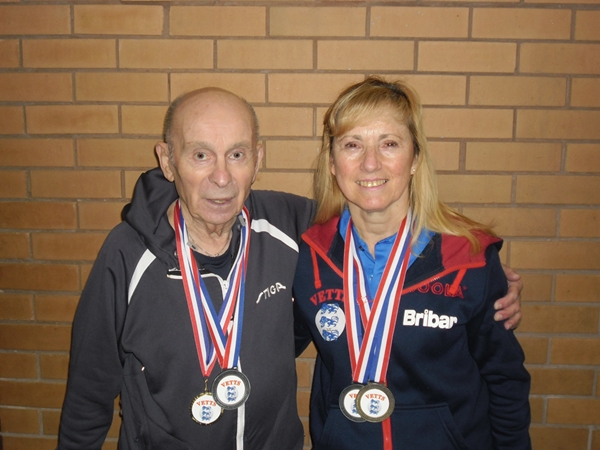 Roger won Gold in the Over 80s Consolation Singles and Silver in the Over 80's Mens Doubles.
Di Won Gold in the Over 50's Womens Doubles, and Silver in the Over 60's Womens Singles.
And they don't look old enough to be eligible do they?
***********************************************
Kaila Cup 2019
The Kaila Cup has now finished, with the semis and final played on Monday 12th August
The finalists were Jeremy Tan and Angus Rogers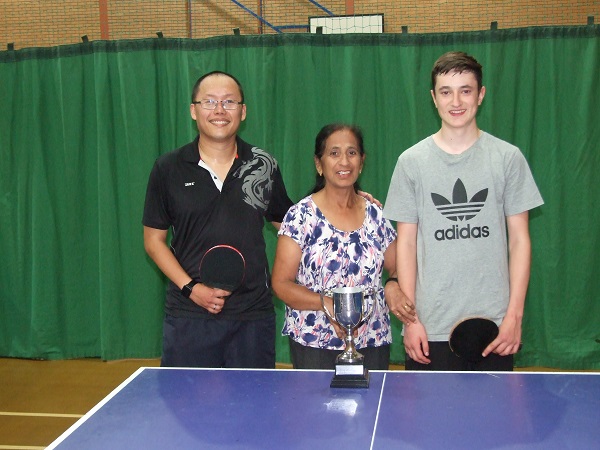 The final was remarkably close, and played to the same rules as the group games, with the overall points score over four games deciding it. With the same handicaps, the game was effectively played off scratch.
Jeremy started strongly, winning the first 11-2, and following up with 11-10 in the second. However, with some great controlled play, Angus came back to win the third and fourth, both by 11-6. As a result, they were equal on points at 34 each after the four games.
So it went to a deciding 5th game, which was all square up to 6-all. But then Jeremy hit a burst of great form, and ran away with the last few points to win it 11-6 and thus take the win and the trophy, presented by Anand's widow Swaran. Congratulations from all club members.