Club News
Please note there will be no club night on Monday 24th Jan as the centre is shut due to Covid cases.
Roger Willetts

It is is with a great deal of sadness that I have to report that long-standing LTTC member and club coach Roger Willetts has passed away.

After a short spell in hospital, he returned home last week as the prognosis was that nothing more could be done to treat his leukemia. He passed away at 1:30 this morning (8th Dec 2021).

I am sure I speak on the whole club's behalf when offering our appreciation for the great contribution he has made to the club since being made our official coach in 2002. Many young players who have been through the coaching courses have much to thank him for.

Please take a moment out of your day today to pause and remember a nice man who was also a fine player. Over the years I knew Roger he played in the Lichfield, Stafford, and Tamworth Leagues, and was a credit to anyone he played for, most recently our Musketeers team in 2019. He will be sorely missed.

Roger's funeral will be held at Cannock Chase Crematorium at 1.30pm on Tuesday 4th January 2022 followed by a rememberance at the Cannock Chase Conservative Club.


If you would like to attend, could you please let Di know (07939 191560) as Roger's daughter Sarah requires numbers for catering purposes.

2021 Christmas Doubles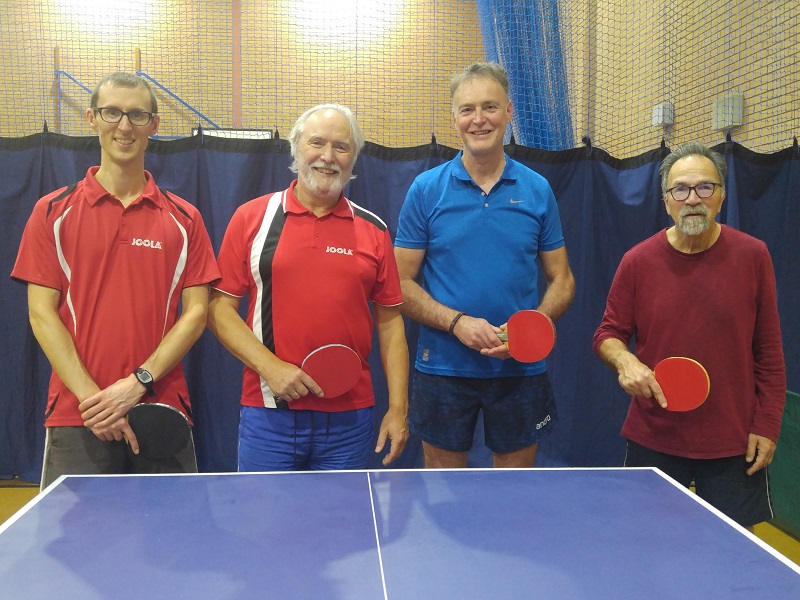 | Chris McKee | Dave Knight | Mark Balant | Chris Latham |
| --- | --- | --- | --- |
The Christmas drawn doubles was played on 20th Dec following the usual handicap format.
After the quarter-finals a minute's silence was held in memory of Roger Willetts, who passed away the week before.
The final was played between Chris and Dave, and Mark and Chris (above) and after an entertaining game, Chris McKee and
Dave Knight were the winners, and will enjoy their "Celebrations" of the chocolate variety over the holiday.
With 3rd Jan being a Bank Holiday, we resume club activity on Monday 10th January 2022.
Following the club AGM on 26th July, the position of Chairman is vacant.
Any volunteer would be welcome.

We have now been fully open since19th July
All eight tables are now available and there is no need to pre-book, and no restrictions on who you play.
And no masks!!!
Please note that we are now able to accept new members. Occasional visitors will also be welcome.
Go to the Membership page


Tournament Wins
The Club membership congratulates Angus Rogers and Christian Kalavanas, who won the 2019 Tamworth Juniors double title,
beating Bethany Wootton and Jake Bryant-Hardy of TYC Talentz in the final.
Also Angus took the Junior singles title by beating Bethany in the final.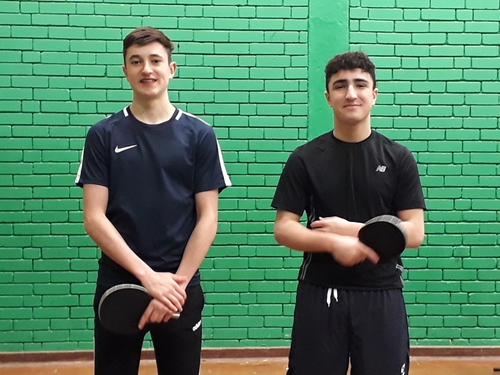 Angus (left) and Christian (right). Junior Doubles Champions.
************************************************************************
Dave Russell Snr
Long term club member Dave Russell Snr sadly passed away on November 20th after a long fight with cancer.
Dave was a well liked member who was always jovial and smiling. He will be missed by all who knew him.
Dave leaves a widow (Mary) and many longer term members will also know his son, also Dave.
The club extends its condolences and sympathy to all of Dave's family and friends.
*******************************************************************
Congratulations to club coaches Roger Willetts and Di St Ledger, who came away from the October Midland Masters 2019 VETTS Tournament with a Gold and Silver each.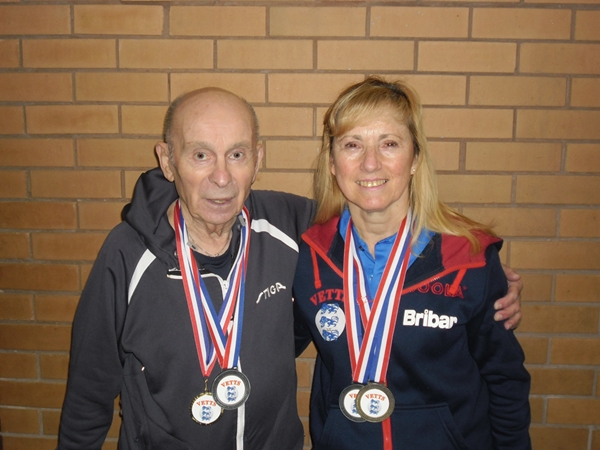 Roger won Gold in the Over 80s Consolation Singles and Silver in the Over 80's Mens Doubles.
Di Won Gold in the Over 50's Womens Doubles, and Silver in the Over 60's Womens Singles.
And they don't look old enough to be eligible do they?
***********************************************
Kaila Cup 2019
The Kaila Cup has now finished, with the semis and final played on Monday 12th August
The finalists were Jeremy Tan and Angus Rogers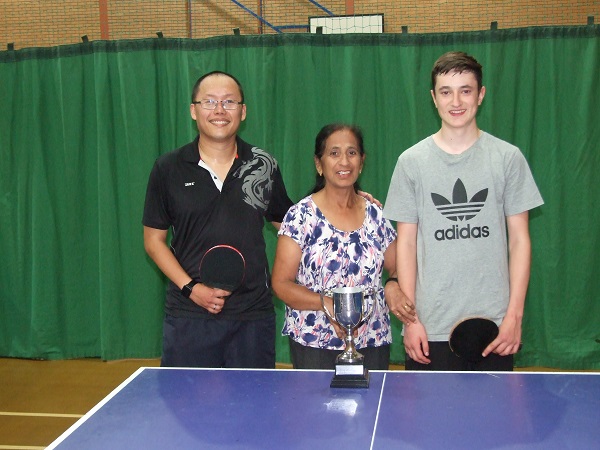 The final was remarkably close, and played to the same rules as the group games, with the overall points score over four games deciding it. With the same handicaps, the game was effectively played off scratch.
Jeremy started strongly, winning the first 11-2, and following up with 11-10 in the second. However, with some great controlled play, Angus came back to win the third and fourth, both by 11-6. As a result, they were equal on points at 34 each after the four games.
So it went to a deciding 5th game, which was all square up to 6-all. But then Jeremy hit a burst of great form, and ran away with the last few points to win it 11-6 and thus take the win and the trophy, presented by Anand's widow Swaran. Congratulations from all club members.