Club News
Covid-19 - Coronavirus
Please note that due to restrictions on the use of King Edwards as a result of the Coronavirus outbreak,
we will be unable to use our venue for the foreseeable future. Club nights are suspended until at least
mid-June, and possibly longer. Please do not visit until this news is updated in due course.
Further information about a resumption of activity will follow as soon as we have firm information.
However, due to social distancing, there will be fewer tables in use and restricted time on them, and as a result we will be unable to welcome "occasional" visitors or non-members until further notice. We are updating our information from time to time as the rules and restrictions develop.
Read the latest Bulletin here - last updated 21/5/20
| | |
| --- | --- |
| LTTC Bulletin | TTE Guidance |


AGM & Subscriptions Info
Peter Collins
I am pleased to say that Peter Collins is now out of hospital, after spending several weeks in intensive care with a twisted bowel.
Although unlikely to be playing competitvely again, he is confident of returning to play at the club when we are open once again.
We all wish hime well, and look forward to seeing him again soon.
Tournament Wins
The Club membership congratulates Angus Rogers and Christian Kalavanas, who won the Tamworth Juniors double title,
beating Bethany Wootton and Jake Bryant-Hardy of TYC Talentz in the final.
Also Angus took the Junior singles title by beating Bethany in the final.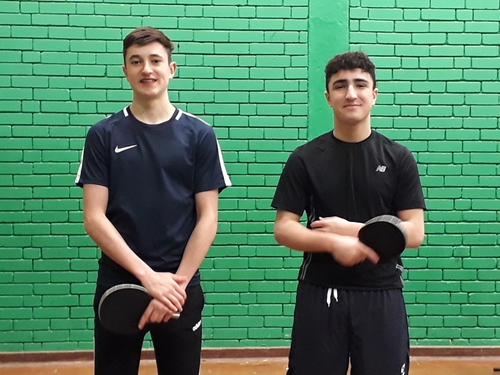 Angus (left) and Christian (right). Junior Doubles Champions.
************************************************************************
Dave Russell Snr
Long term club member Dave Russell Snr sadly passed away on November 20th after a long fight with cancer.
Dave was a well liked member who was always jovial and smiling. He will be missed by all who knew him.
Dave leaves a widow (Mary) and many longer term members will also know his son, also Dave.
The club extends its condolences and sympathy to all of Dave's family and friends.
*******************************************************************
Congratulations to club coaches Roger Willetts and Di St Ledger, who came away from the October Midland Masters 2019 VETTS Tournament with a Gold and Silver each.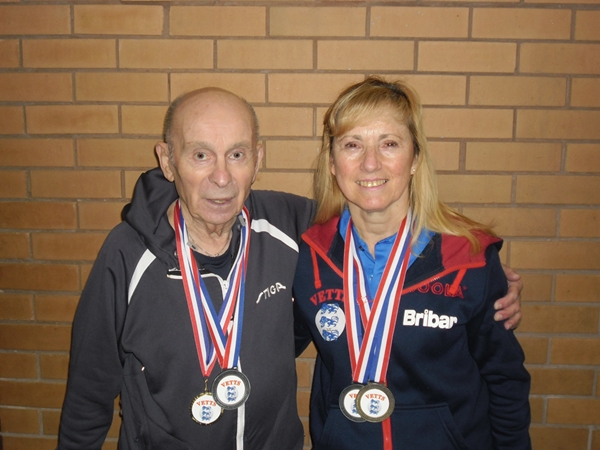 Roger won Gold in the Over 80s Consolation Singles and Silver in the Over 80's Mens Doubles.
Di Won Gold in the Over 50's Womens Doubles, and Silver in the Over 60's Womens Singles.
And they don't look old enough to be eligible do they?
***********************************************
Kaila Cup 2019
The Kaila Cup has now finished, with the semis and final played on Monday 12th August
The finalists were Jeremy Tan and Angus Rogers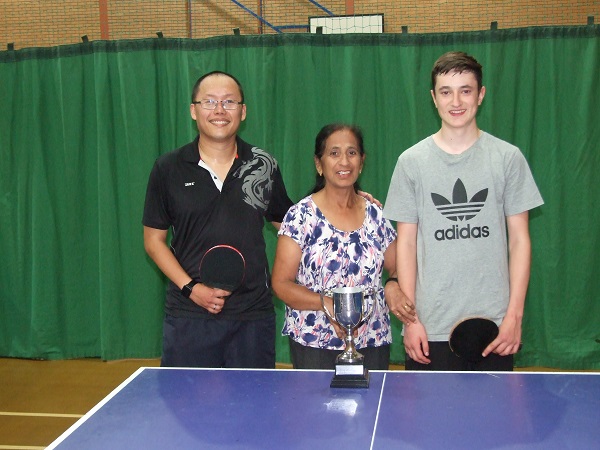 The final was remarkably close, and played to the same rules as the group games, with the overall points score over four games deciding it. With the same handicaps, the game was effectively played off scratch.
Jeremy started strongly, winning the first 11-2, and following up with 11-10 in the second. However, with some great controlled play, Angus came back to win the third and fourth, both by 11-6. As a result, they were equal on points at 34 each after the four games.
So it went to a deciding 5th game, which was all square up to 6-all. But then Jeremy hit a burst of great form, and ran away with the last few points to win it 11-6 and thus take the win and the trophy, presented by Anand's widow Swaran. Congratulations from all club members.