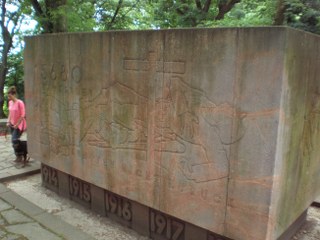 There is a spectacular church (above) and an impressive war memorial.
Zoran was perplexed by the location of the park bench! (below)
Once in Limburg we had a walking tour of the old town.
We played a three-way tournament against Offheim and St Foy, preceded by a couple of beers.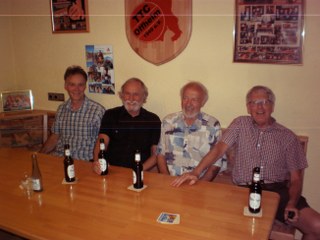 The teams lined up for a photo before play got under way. Some of the Lichfieldf players feature below.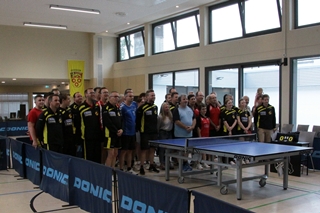 The final was unusual because it featured two father and son teams from Offheim and St Foy.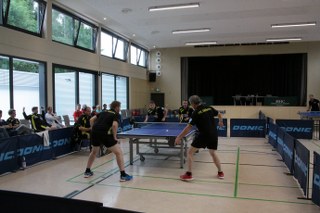 Offheim won.
Well, it WAS their celebrations after all.
The Offheim teams
The Lichfield teams
And both together with St Foy players.
Lichfield was represented by Klaus, Dave, Zoran, Cyril, Mark and Stephan (who was gifted to us by Offheim for the day)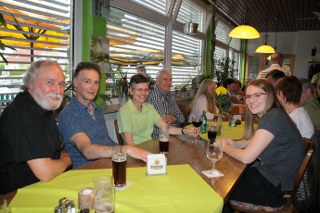 Saturday night we were all assembled for for a meal....and a few beers.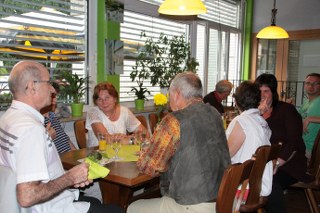 Sunday was the big day for the 800 year Anniversary parade. For a relatively small village, Offheim put on a tremendous parade and party afterwards.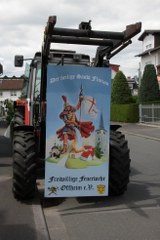 Reflecting the rural nature of the village and the agricultural heritage, there were plenty of tractors pulling floats.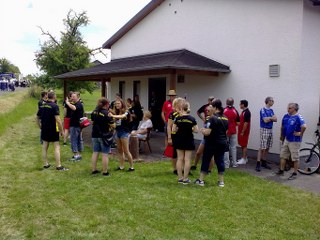 The TTC Offheim players gather ready to board their float.
They then joined the procession along with what seemed like dozens of other organisations, groups, bands and officials etc.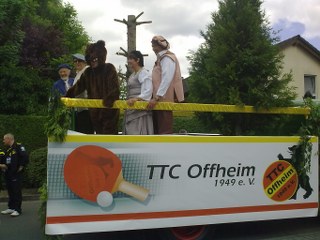 Finally, as part of the post-parade entertainment, there was a Kart race organised over about a quarter mile dowhill course.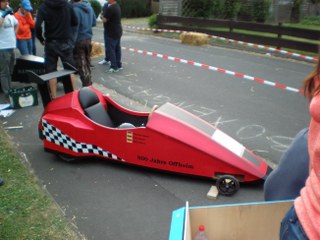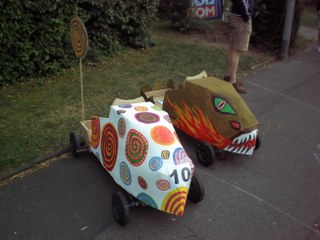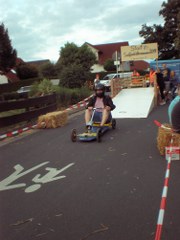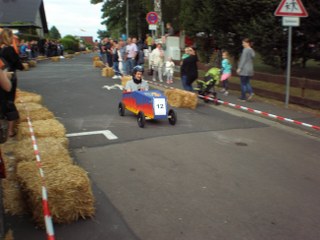 The vehicles ranged from the sublime to the ridiculous, but all tried hard, and everyone had a load of fun.
The Lichfield players thank all of our hosts for their help and hospitaility, and for making this a most enjoyable weekend.